Everyone loves a good ghost story.
Vyacheslav Baranov / Getty Images / Via gettyimages.com
They're even better when they're based on real life. We asked Yelp for the most haunted location in every state (plus D.C.) — which they measured by combing their listings for the word "haunted" — then sorting and ranking them based on several factors, including total volume and overall ratings.
Here are the 51 best spots to get spooked — from Yelp users who love the adrenaline rush as much as you do!
1. Belle Mont, Tuscumbia, Alabama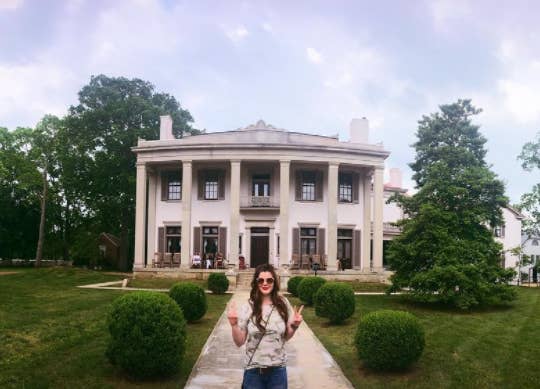 ali_p_adams / Via instagram.com
"I read it was haunted by the family who bought the place from Dr. Mitchell. Apparently, the husband, Isaac, died here in 1863, and his wife Catherine died here 20 years later. The strangest experience happened soon after my arrival here. There was a large Christmas tree standing over in the corner, festooned with original, antique Christmas ornaments. One of the volunteers was explaining how a Mrs. Burke made these ornaments by hand. Just as she mentioned her name, an Christmas ball fell from the tree and rolled to within an inch of where I was standing" —Yelper Michael S.
2. The Van Gilder Hotel, Seward, Alaska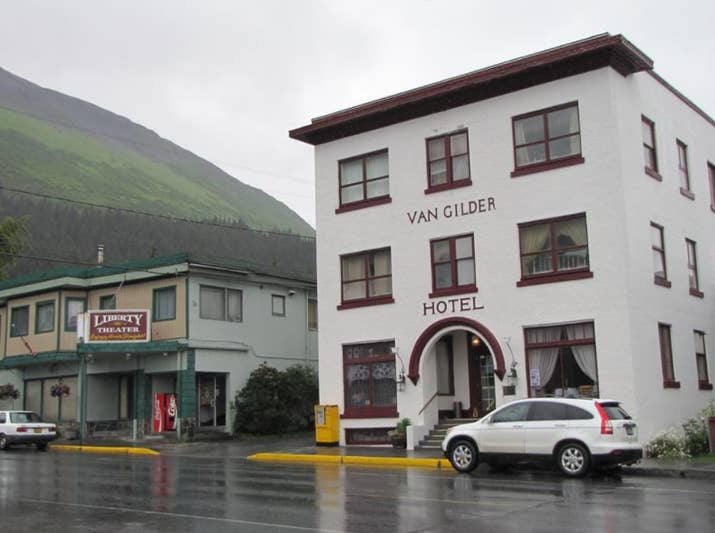 Photo by Dave R. via Yelp
"Though I was told by locals that the hotel was haunted, I was skeptical. Later, while I was laying in bed watching TV, the door to the hallway opened as if someone was checking into the room. When I got up to check, not only was there was no one there, the door was also locked from the inside." —Yelper Kent H.
3. The 1886 Crescent Hotel & Spa, Eureka Springs, Arizona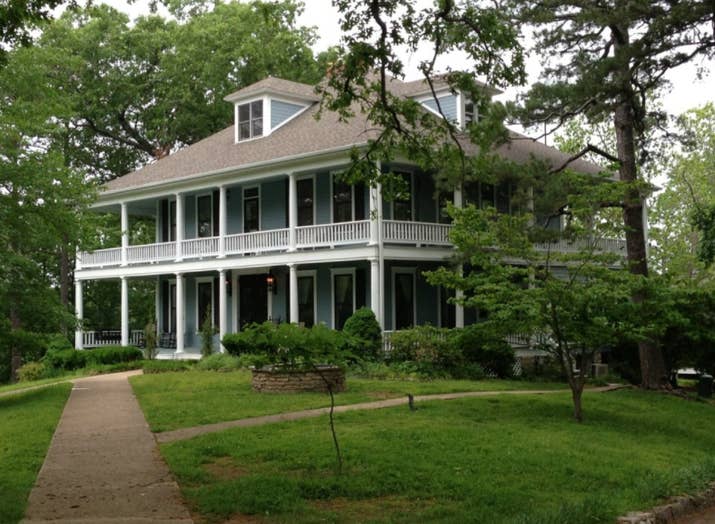 Photo by Rob H. via Yelp
"The ghost tour came complete with testimony from guests and photographs that they sent in. There was certainly some wild stuff. They encourage you to take your own pictures and look for moving orbs, as those are spirits that occupy the hotel. The location is also beautiful — come for the setting, and leave because you got the willies." —Yelper Briana B.
4. Casey Moore's Oyster House, Tempe, Arizona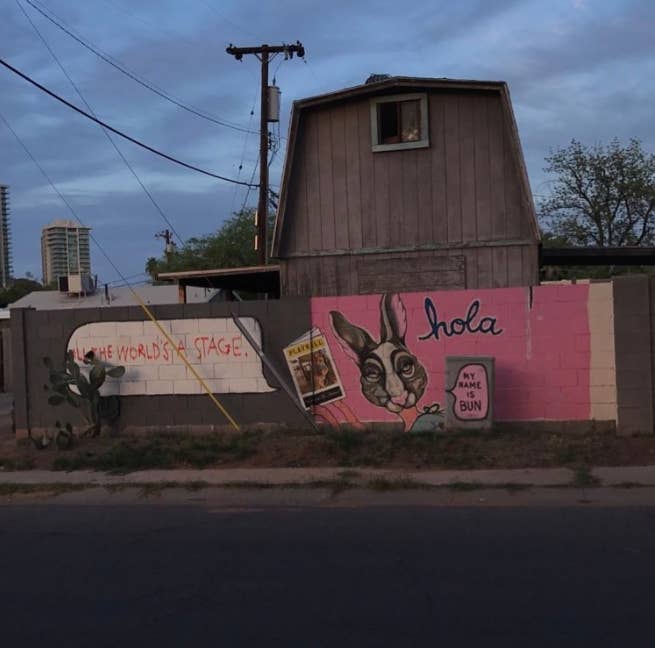 meganhusted1 / Via instagram.com
"Try to go upstairs. I did once when no one was up there and it was kind of creepy. Not too sure of the whole 'haunted' thing, but it adds to the bar's charm." —Yelper Natasha S.
5. USS Hornet Museum, Alameda, California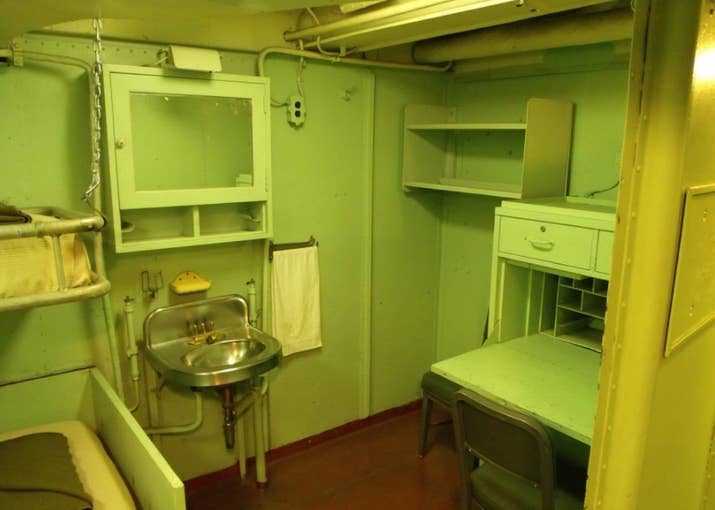 Photo by David R. via Yelp
"I'm one of those people who watches a TV special about haunted places and says, 'Fun! Let's check that out!' But when I actually get there, I wuss out. I could have SWORN I felt haunted spirits around the USS Hornet's infirmary. It got very, very creepy. I high-tailed it out of there pronto." —Yelper Lisa T.
6. The Stanley Hotel, Estes Park, Colorado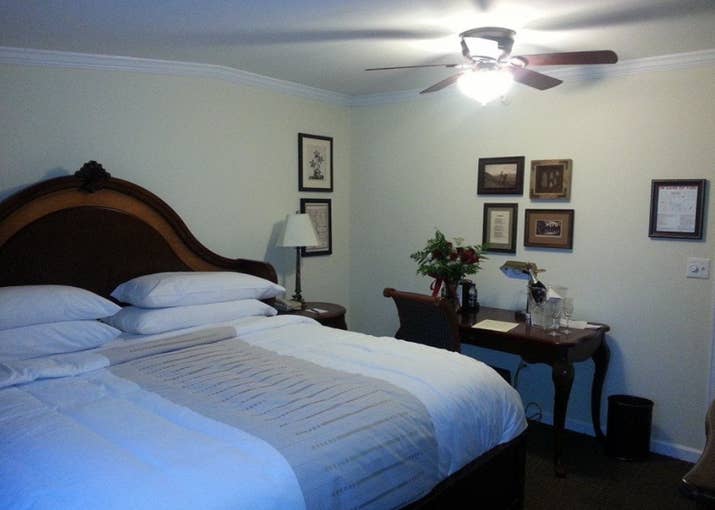 Photo by Elizabeth M. via Yelp
"We stayed in room 401, supposedly the most haunted room in the house. I did not sleep a wink, and at one point in the middle of the night, our bed shook for no apparent reason." —Yelper Diana J.
7. The Captain Daniel Packer Inne, Mystic, Connecticut
Photo by Susan T. via Yelp
"While we were on one end of the table a water glass fell, shattered, and somehow landed straight up on its base. As the staff cleaned up the glass and we asked if the place was haunted, they smiled. They took a photo and said not to worry; that similar things happen all the time." - Yelper Nicole K.
8. Omni Shoreham Hotel, Washington, D.C.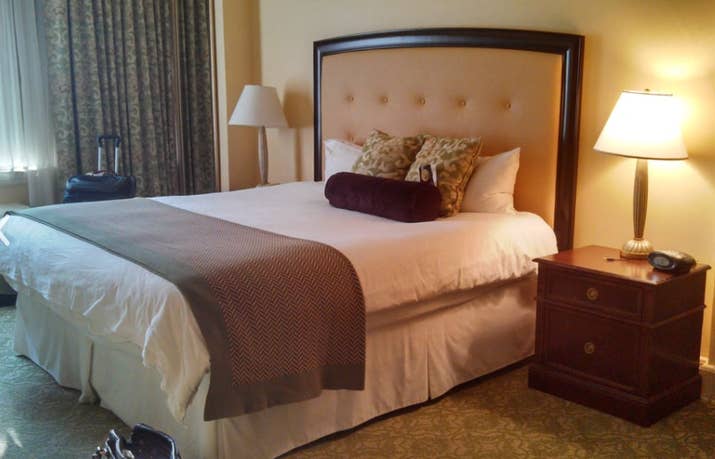 Photo by Courtney R. via Yelp
"This place is very historical. They have lots of fun facts all over the lobby with information on who used to stay there. Yes, the Ghost Suite is haunted. I did not stay in there, but from what I read and the stories I heard, one room is haunted." —Yelper Noella C.
9. Winterthur, Winterthur, Delaware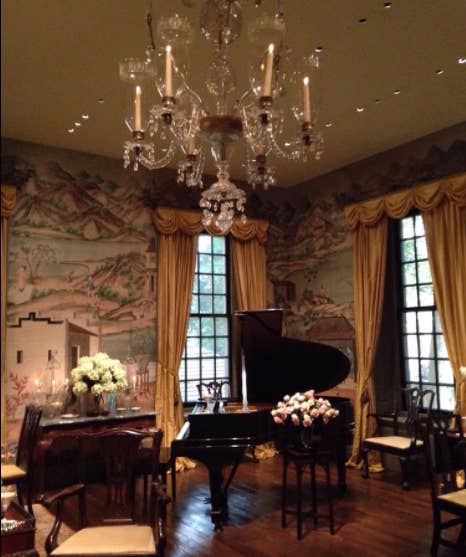 Photo by Anupama R. via Yelp
"This place is a true, local treasure. The DuPonts of this era acquired staggering wealth and surrounded themselves with 1,000 acres of farms and gardens, then built a 125-room, 9-floor mansion. The house tour provides a nice cross-section of rooms to view. Each is opulent and filled to the gills with treasured artifacts and furniture." —Yelper Kristin N.
10. The Porch, Key West, Florida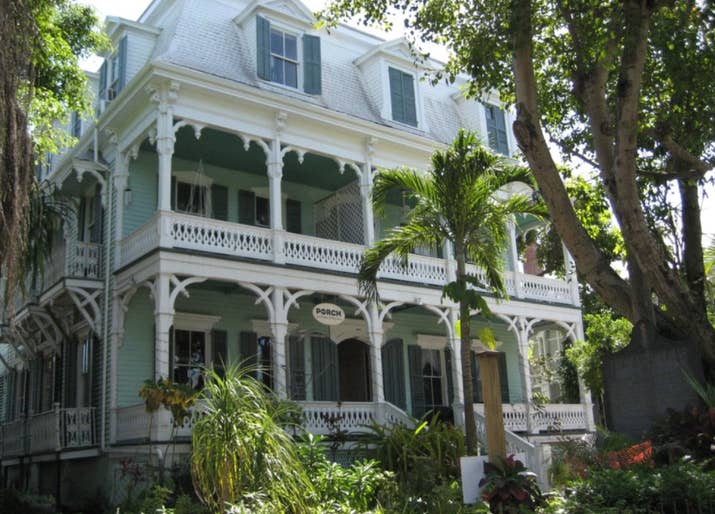 Photo by Darlene D. via Yelp
"The Porch is located in an old building with, you guessed it, a very large Porch that you can lounge on while you sip an ice cold brew. Inside you will find a fairly small bar area (that legend has is VERY haunted). The bar itself is quite welcoming and it is easy to get lost in time here." —Yelper Kris C.
11. The Olde Pink House Restaurant, Savannah, Georgia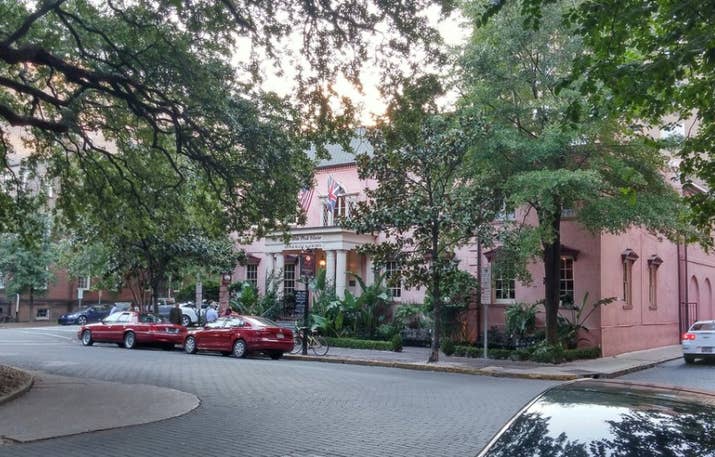 Photo by Daniel R. via Yelp
"The ladies bathroom in the basement tavern is haunted. After dinner, my wife checked it out and she felt the door being pushed shut while she was still holding the door knob." —Yelper Mark K.
12. Regal Cinemas Dole Cannery 18 IMAX & RPX, Honolulu, Hawaii
Photo by Kaliko P. via Yelp
"Theater 14 is known to be haunted: You'll see a man sitting on the top row corner and hear children laughing in the bathroom. If you want to know more, ask the ticket lady and she'll tell you." —Yelper Lora C.
13. Villisca Ax Murder House, Villisca, Iowa
Photo by Cynthia E. via Yelp
"You can visit the most haunted house in America, the Villisca Ax Murder House, in Villisca, Iowa, for just $10 per person. Disembodied children's voices, falling lamps, moving ladders, and flying objects have been reported, and psychics have confirmed the presence of spirits dwelling in the home." —Yelper Chris S.
14. Old Idaho Penitentiary, Boise, Idaho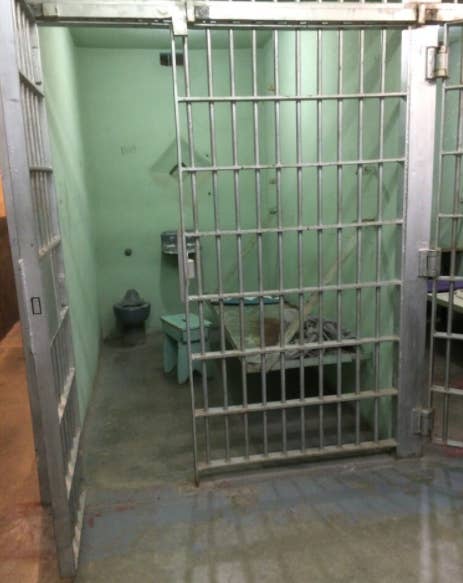 Photo by Barbara B. via Yelp
"We took a tour and had the opportunity to get locked down in the maximum security building, hear stories of how people feel pressure on their head standing where the gallows used to be, and so many more fascinating stories. Seeing the solitary rooms were creepy and our guide mentioned that some old inmates come back to tour their old haunt." —Yelper Patricia W.
15. The Country House, Clarendon Hills, Illinois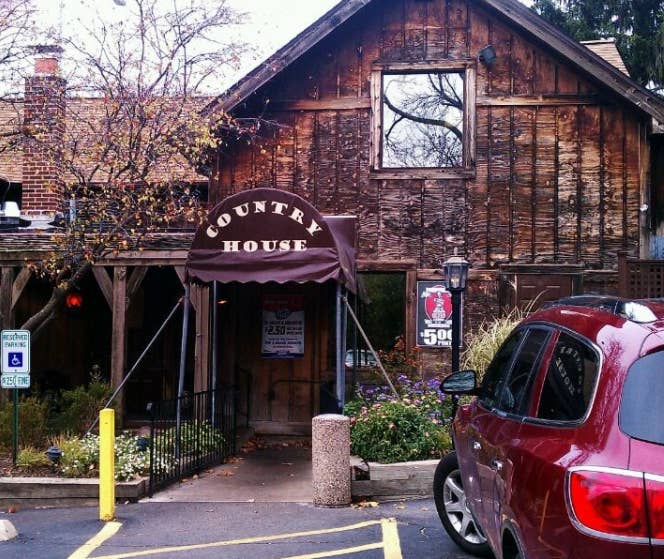 Photo by Larry C. via Yelp
"There's a ghost that lives upstairs. I'm not sure if you can get up there to meet it, but apparently if you drive by, you can see it looking out the windows sometimes." —Yelper Steve G.
16. Indiana Medical History Museum, Indianapolis, Indiana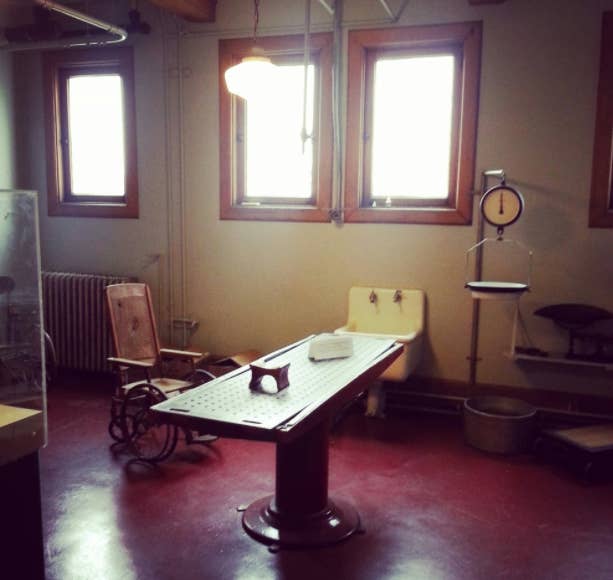 Photo by Shana K. via Yelp
"Although the original psychiatric hospital has been torn down, many of the other original buildings remain. When driving past the old eating hall, which is now an event hall, I could feel such despair. Supposedly the power house is haunted and the old catacombs and unmarked cemeteries are still in existence." —Yelper Cheryl F.
17. Grinders Stonewall, Lenexa, Kansas
Photo by Bryenn L. via Yelp
"Staff is very knowledgeable and attentive, and the haunted stories are an extra treat." —Yelper Shauntá Renee H.
18. Buffalo Trace Distillery, Frankfort, Kentucky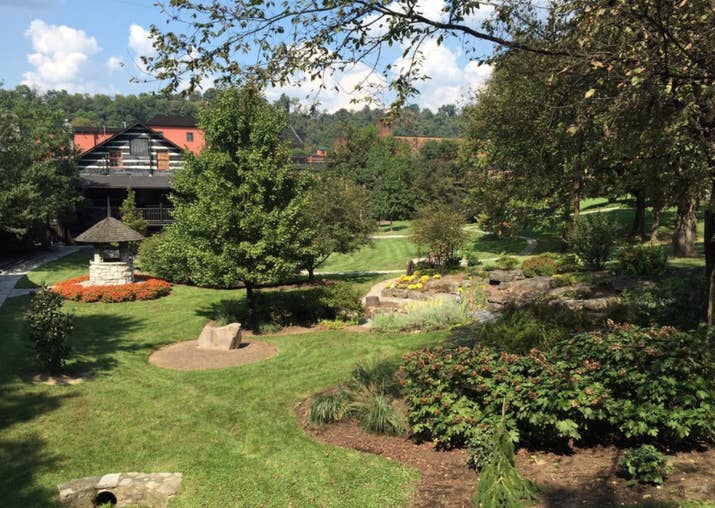 Photo by Shan K. via Yelp
"The ghost tour includes a bus ride up to Stony Point Mansion where Colonel Blanton lived and died. He supposedly still haunts the grounds and they give you opportunities to interact with him if he is there." —Yelper Kara C.
19. Muriel's Jackson Square, New Orleans, Louisiana
Photo by William K. via Yelp
"A special treat included at this restaurant was a tour of the upstairs rooms and seance room, as this is one of the more popular haunted buildings in NOLA. Just ask your server about the history and the ghosts and they will gladly share the story." —Yelper Ailleth T.
20. Lizzie Borden Bed & Breakfast Museum, Fall River, Massachusetts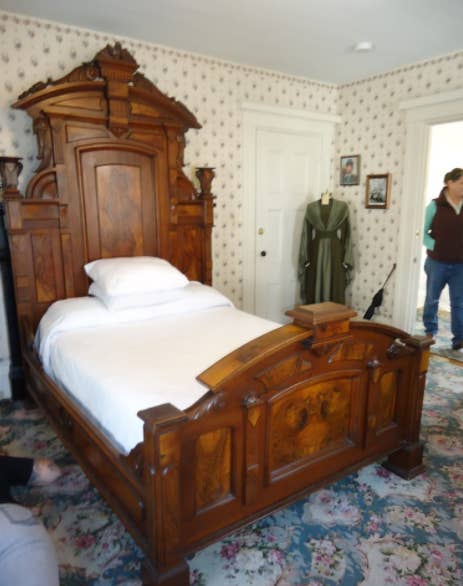 Photo by JLynn C. via Yelp
"Is the place haunted? Yes. My boyfriend and I both experienced the same things and didn't realize it til we discussed them later after we checked out. For example, we woke up several times throughout the night because the bottom of our bed was shaking. We also would experience odd and foul smells in certain rooms that not everyone else could sense (only 3 out of the 10 of us staying there experienced the olfactory phenomena)." —Yelper Kelsey W.
21. Lord Baltimore Hotel, Baltimore, Maryland
Photo by J D. via Yelp
"Is the hotel haunted? Probably. Did I see anything scary during my stay? No. Yes, I would recommend this hotel to others and yes, I actually would stay here again." —Yelper Aveeda G.
22. Inn At St John, Portland, Maine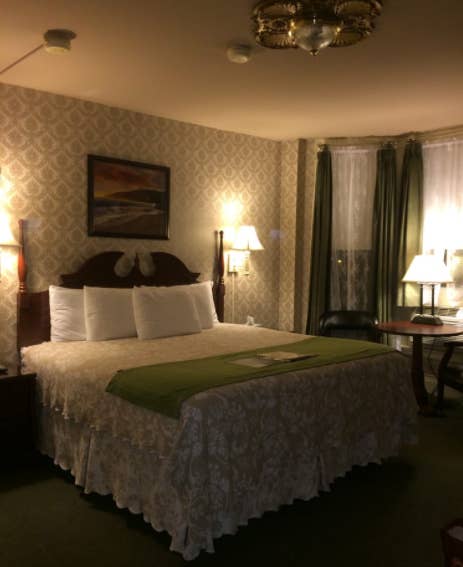 Photo by Mike T. via Yelp
"I am about 100% sure that an old sailor's ghost haunts the place" —Yelper Angela B.
23.The Fenton Hotel, Fenton, Michigan
Photo by The Fenton Hotel via Yelp
"I was warned while in the bathroom that the third stall is haunted (the hotel is documented as being so). Enter at your own risk." —Yelper Jennifer T.
24. Forepaugh's Restaurant, Saint Paul, Minnesota
Photo by Danke D. via Yelp
"A ghost named Molly supposedly lingers on the top floor, where, according to our waiter, her fateful 'incident' occurred." —Yelper Camille L.
25. The Elms Hotel & Spa, Excelsior Springs, Missouri
Photo by Crystal C. via Yelp
"A fun thing The Elms offers is a ghost tour. The hotel is supposed to be haunted, and the tour guide has plenty of stories to back that up! He takes you to every floor (even the secret fifth floor!) and tells stories. We even discovered that our room was one of the 'haunted' ones! It's a fun, free thing the hotel offers, so don't miss it!" —Yelper Jacquelyn B.
26. King's Tavern, Natchez, Mississippi
Photo by Shantel M. via Yelp
"This place is supposedly haunted. I generally am skeptical of this kind of stuff, but the cap on my soft drink literally flew across the table. I looked at my husband and jokingly said 'Either there's some crazy carbonation in that drink, or this place is haunted.' I mentioned it to our waiter when we checked out, and he said that it is indeed haunted." —Yelper Kathleen M.
27. Dude Rancher Lodge, Billings, Montana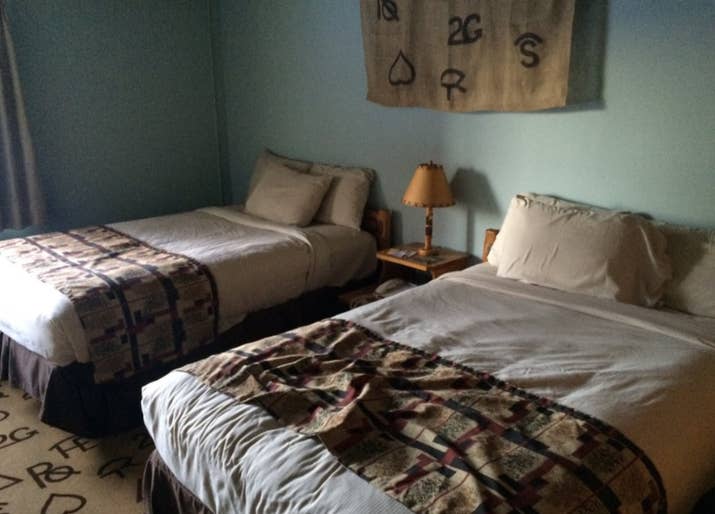 Photo by Chun P. via Yelp
"This is as good as it gets for a somewhat kitschy, historic, western-themed place. It features a restaurant, is within walking distance of local brewpubs, and has been located in just-mildly-haunted Billings, Montana since circa 1949." —Yelper Barbara S.
28. USS North Carolina Battleship Memorial, Wilmington, North Carolina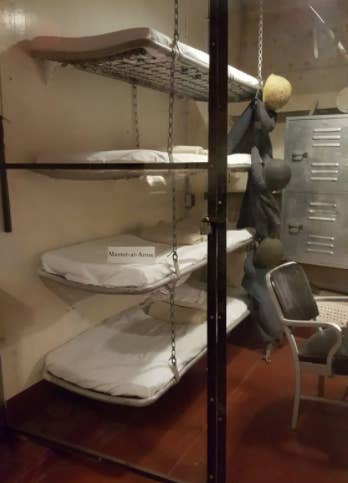 Photo by Lisa A. via Yelp
"We had the privilege of meeting Danny Bradshaw, the night watchman of the USS NC Battleship, during one of our visits, and he gave us a brief history of the ship, and even told us some haunting tales that have been experienced there by himself and others." —Yelper Michelle J.
29. The Vegas Motel, Minot, North Dakota
chainsawviking / Via instagram.com
"I saw some odd things while staying there that I chalked up to me being exhausted and 'seeing things.' But then I was told by a couple of ex-employees that there have been at least two other reported haunted incidences that have occurred over the past 20 years." —Yelper Bianca O.
30. Brother Sebastian's Steak House & Winery, Omaha, Nebraska
Photo by Alex L. via Yelp
"The setting at Brother Sebastian's is truly one-of-a-kind. It's like the York Steak House married Disney's Haunted Mansion and had a baby." —Yelper Christopher K.
31. Onions Pub & Restaurant, Tilton, New Hampshire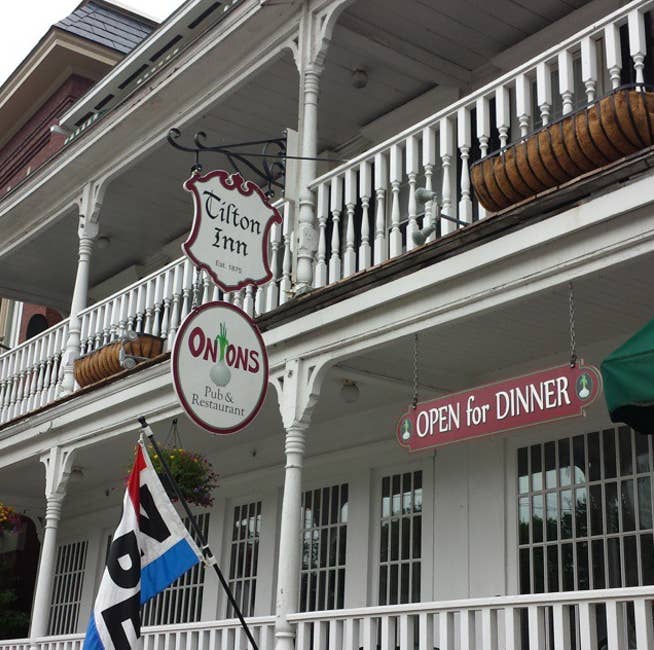 mocchionero / Via instagram.com
"A 12-year-old named Laura died in a fire here many years ago, and apparently plays tricks on visitors sometimes." —Yelper Douglas M.
32. The Stanhope House, Stanhope, New Jersey
Photo by The Stanhope House via Yelp
"Our waitress told us the space has a long history of ghosts. She said that when they were renovating, a lot of things fell unexpectedly and chairs moved in the basement while everyone was upstairs. So beware." —Yelper Stacey G.
33. Double Eagle, Mesilla, New Mexico
Photo by Erma D. via Yelp
"This place is an adorable haunted estate that was a perfect break while driving from Austin to Los angeles." —Yelper Kristalle J.
34. Mizpah Hotel, Tonopah, Nevada
Photo by Stef A. via Yelp
"When in Tonopah, the place to stay is the Mizpah Hotel, a 1908 structure that has been beautifully restored. Reserve the Lady in Red room on the 5th floor #504 — the room honors the young lady of the evening who was killed in the room and is supposedly haunted." —Yelper Gerry W.
35. The Haunted Shanley Hotel, Napanoch, New York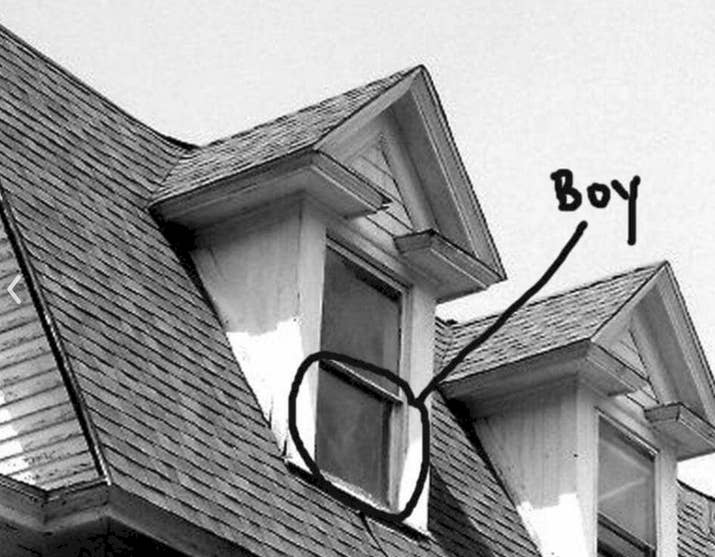 Photo by The Haunted Shanley Hotel via Yelp
"Is it haunted? Well, that's for you to decide. In my opinion (as an open-minded skeptic) — WITHOUT A DOUBT" —Yelper Kim K.
36. Music Hall, Cincinnati, Ohio
Photo by Ryan B. via Yelp
"Of course, everyone knows the tales of this building's hauntings. Our guide had a few first-hand experiences, including accounts of music stands moving, chandeliers crashing, and sounds of a party going on after-hours in the Critics' Club." —Yelper Paige M.
37. Skirvin Hilton, Oklahoma City, Oklahoma
Photo by Skirvin Hilton via Yelp
"It's one of America's most haunted hotels. Effie, the ghost, apparently propositions men in the bathroom of room 1015. Guess which room we were in? Yep. 1015. Though we didn't hear her dulcet tones, the hot water mysteriously stopped working the day of check out. Effie or bad plumbing? We preferred the ghost story." —Yelper Kelly S.
38. McMenamins Edgefield, Troutdale, Oregon
Photo by McMenamins Edgefield via Yelp
"I've heard that this is one of the most haunted places in America and that it used to be an insane asylum." —Yelper A E.
39. Jean Bonnet Tavern, Bedford, Pennsylvania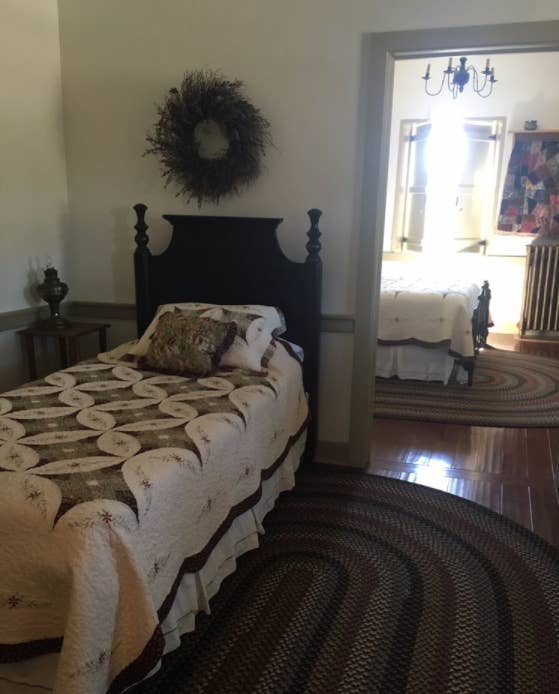 Photo by Victoria S. via Yelp
"This building is one of the top 10 haunted places in the state! Stories of orbs, apparitions, items being pushed off tables, people being touched, and strange noises at night abound. They have a little ghost book you can ask to look at with photos of these lingering guests!" —Yelper Victoria S.
40. White Horse Tavern, Newport, Rhode Island
Photo by Adam D. via Yelp
"So rumor has it that this spot is the oldest tavern in the United States. Rumor also has it that this tavern is haunted. Without a doubt, this was one of my favorite stops in Newport... even if I didn't see a ghost." —Yelper Jeff C.
41. Poogan's Porch, Charleston, South Carolina
Photo by Michelle H. via Yelp
"Situated in an old, beautiful, Southern-style house, legend has it that this location is haunted by the ghost of one of the sisters who owned this house, Zoe St. Amand, who ended up in psychiatric care for the remainder of her life due to depression." —Yelper Daves N.
42. The Hotel Alex Johnson, Rapid City, South Dakota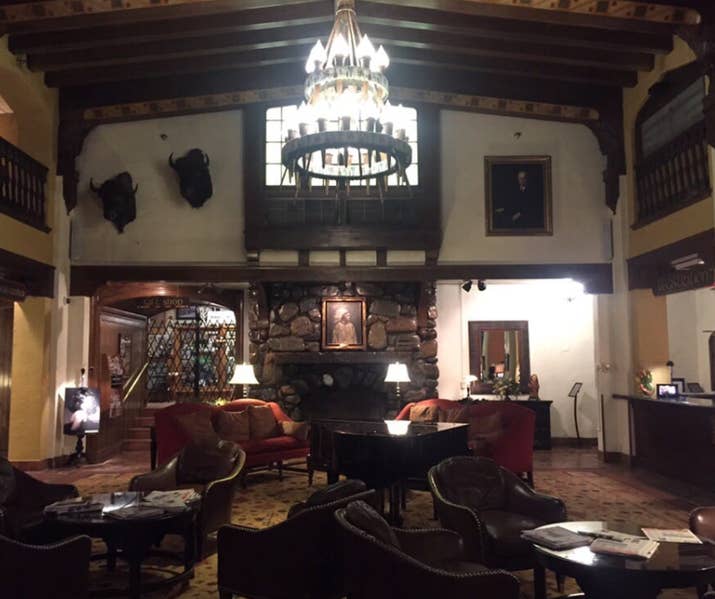 Photo by Aya Z. via Yelp
"The hotel staff keeps a book of guests' ghost stories at the front desk." —Yelper Sean S.
43. Earnestine & Hazel's Bar & Grill, Memphis, Tennessee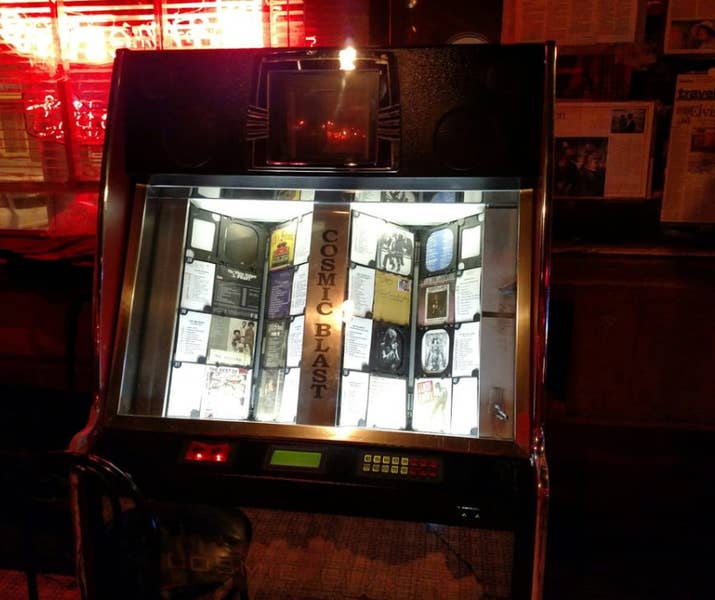 Photo by Molly P. via Yelp
"The whole place is supposedly haunted and considered one of the most haunted places in Memphis. Apparently their jukebox is one of the haunted objects and plays music/songs applicable to what nearby tables are discussing." —Yelper Joelle P.
44. The Driskill, in the Unbound Collection by Hyatt, Austin, Texas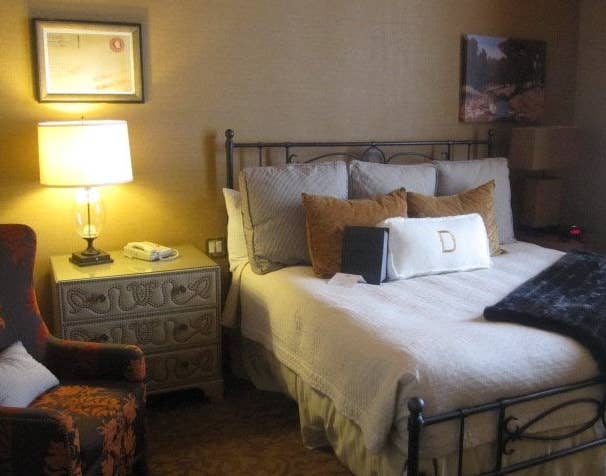 Photo by Connie C. via Yelp
"The lady I spoke with was sweet and accommodating and even gave me literature on the history of the hotel and its recorded hauntings. I would definitely recommend this place to any explorer who is in town!" —Yelper Camille G.
45. Ben Lomond Suites, An Ascend Hotel Collection Member, Ogden, Utah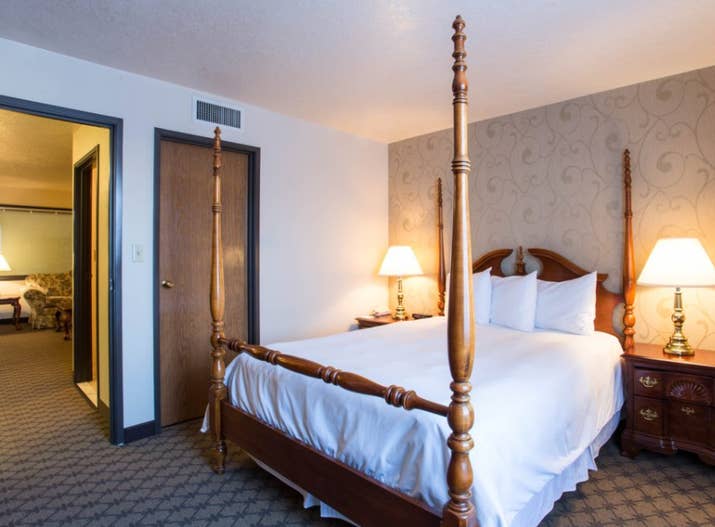 Photo by Ben Lomond Suites, An Ascend Hotel Collection Member via Yelp
"Allegedly the female spirit in 1102 has a reputation of physically pushing guests. The last day of my stay, my fiancee woke up and recalled dreaming of a lady pushing him in bed and pulling his pillow from under his head." —Yelper Maryjane C.
46. The Winery at La Grange, Haymarket, Virginia
Photo by Mel L. via Yelp
"I was told that the house here is haunted with ghosts of civil war soldiers. The feel of the house makes that theory completely believable." —Yelper Susan L.
47. Firehouse Inn, Barre, Vermont
Photo by Mel L. via Yelp
"We did not have any spooky experiences, but some people mentioned that the Firehouse Inn is known to be haunted." —Yelper Alessandra S.
48. Merchants Cafe and Saloon, Seattle, Washington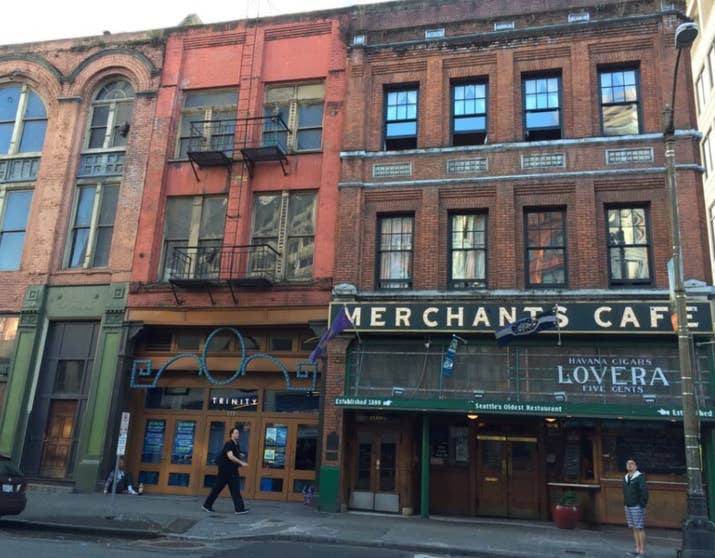 Photo by Richie D. via Yelp
"The story goes that the location is still visited by the ghosts of a few who used to get wasted at this bar." —Yelper Afshin A.
49. The Pfister, Milwaukee, Wisconsin
Photo by The Pfister via Yelp
"The hotel is famous for the countless number of renown guests. For better or worse, it is also known as one of the most haunted hotels in the country." —Yelper Evan P.
50. West Virginia Penitentiary Tours, Moundsville, West Virginia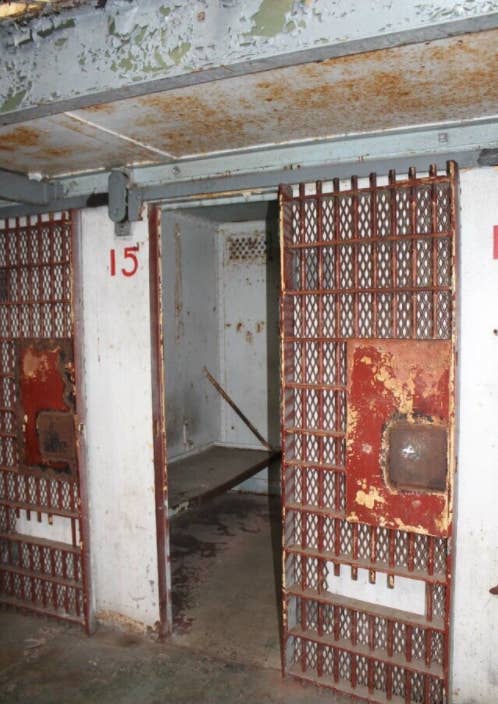 Photo by Livi C. via Yelp
"Our tour included a guide who did a great job of telling us about the history of the prison, noting specific spots where paranormal activity tends to be high, where murders occurred, what the story behind them were, and other random fun facts. We got the chance to walk through the old psych ward, infirmary, kitchen and cafeteria, and toward the end, a dungeon-like area where one particularly brutal murder took place." —Yelper Maren V.
51. SpringHill Suites by Marriott Cheyenne, Cheyenne, Wyoming
Photo by Bob N. via Yelp
"My room was haunted. No matter what I did, the TV came on at 4 am, and apparently the ghost is a liberal that likes PBS." —Yelper Harry H.